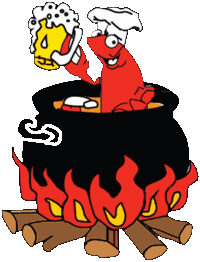 After several months of pouring over maps, travel books, and Internet sites, a plan was finally taking shape. An April 2011 motorcycle trip from Chicago, Illinois to Cajun Country in Louisiana is ready for lift-off. Trip highlights include the Natchez Trace Parkway, Mississippi Delta blues, Civil War battlefields, and Cajun Country cuisine and music. A mid-April departure was selected based on historical weather averages along the route, with a low probability of lingering rains and high temperatures expected in the upper 70s. Cold weather riding gear will be kept to a minimum, an especially welcome thought coming out of the dreary Chicago winter and recent blizzard of February 2011. This time of year is also favorable for crawfish and Gulf oyster harvests, both of which will be highly sought on this journey.
A 2005 Honda ST1300 and a 2007 Triumph Tiger will be the cycles ridden on this trip. Unique bikes from each other but both very capable of long distance touring with plenty of range and luggage space. A tow vehicle will be used to transport the cycles past the featureless Illinois/ Indiana Interstate system and cool mid-April weather of the Midwest to a launch point near Nashville, Tennessee where the roads are far more pleasing to motorcyclists. Besides more favorable weather and roads, Nashville was also selected as a jump site since it is near the northern terminus of the Natchez Trace Parkway: an unbroken 444 mile linear national park that takes a northeast to southwest passage through Tennessee, Alabama, and Mississippi. Round trip between Chicago and Nashville, the tow vehicle will be saving about 1050 miles of cycle riding. Once the bikes are unloaded, a 1525 mile route over eight days is planned with overnight stays in Tupelo, Ms., Natchez, Ms., Breaux Bridge, La., Vicksburg, Ms., Clarksdale, Ms., Oxford, Ms., and Franklin, Tn.
Navigation for this route is accomplished primarily with the aid of a Garmin Nuvi 755 GPS mounted to the Tiger. Coordinates of waypoints described in daily reports are derived directly from the Nuvi and are generally accurate to within 45 feet.
Camera equipment used on this trip ranges from the convenient Kodak EasyShare M763 ultra-compact to a Nikon D3100 digital SLR. Two lenses provide zoom capability between 18-300mm.